The Gonzales Chamber of Commerce and Agriculture will hold our annual banquet on Friday, February 10, 2017.
The evening will kick off with a cocktail hour followed by dinner, slideshow, silent & live auction, and the distinguished awards ceremony. First Shot Tables are $450 and will be reserved for 8 guests, primary seating with business name displayed, snacks, and specialty wine.
General Admission is $30 for Chamber members in good standing and $35 for non-chamber members. Please note that general admission tickets are on a first come first serve basis on seating.
Chamber of Commerce 2017 Banquet Information
J.B. Wells Expo Center
Co Rd 197, Gonzales, TX 78629, USA
Tickets for Chamber Members: $30
Tickets for Non-Chamber Members: $35
2016 Chamber of Commerce Recap
January 30th was the not-to-be-missed cruise ship event to kick off the new year.
The event began at 6 p.m. at the Victoria College-Gonzales Center with a cocktail hour followed by a dinner, entertainment, silent and live auction and snapshots from the year.
Two important awards were presented to special guests in attendance: The David B. Walshak Lifetime Achievement Award  and the Community Service. Award winners are detailed below.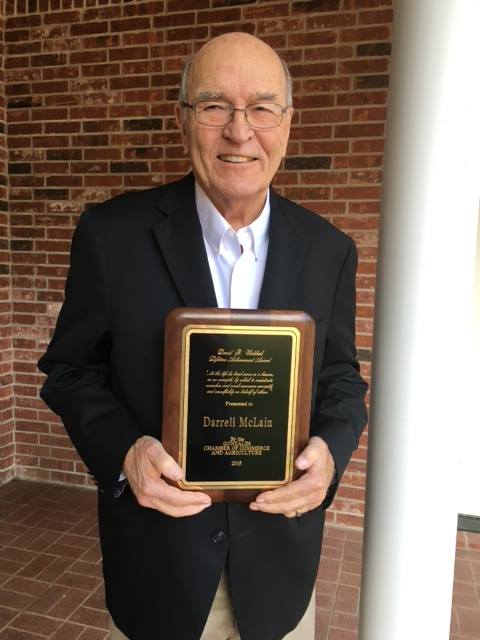 Congratulations to Darrell McLain on being awarded the 2015 David B. Walshak Lifetime Achievement Award!
Darrell McLain came to Gonzales in 1988 to pursue a dream of starting a family business of growing mushrooms. Through the help of many good people in the Community and those he works with, he has seen that dream grow and become a thriving business that supports many families in Gonzales. Over the past 28 years, Darrell has been active behind the scenes and always willing to help by supporting many projects in our community. Darrell was a member of Rotary and served on various committees while a member of the First United Methodist Church. He served the area by being a board member of the Capitol Area Council, a group that was responsible for serving SBA small business loans. He served a term with the Golden Crescent Regional Council. He served several terms on the National USDA Mushroom Council, which was an appointment by the US Secretary of Agriculture. Currently, Darrell is serving the community as a director of the Guadalupe Blanco River Authority for a five-year term. One of Darrell's passions is helping youth realize their potential by granting scholarships which have helped many graduating senior students further their education. Darrell is always there to listen and guide individuals through challenging times and has served as a mentor to many. Darrell's proudest accomplishments are his family, Kathie, his wife of 58 years, four children, fourteen grandchildren and four great-grandchildren.
Congratulations to Jesse Elizondo on being awarded our 2015 Community Service Award in the category of Youth Motivation!
Beginning the summer of 2011, Jesse Elizondo, along with his friend, Doug Tyler, committed to starting a soccer league for the community of Gonzales. This would not be an ordinary sports league. This league would be centralized around The Good News. That prayer became a vision which eventually birthed the Gonzales Youth Sports League with Jesse serving as its Director. The youth soccer league officially began in August of that same year. Jesse and Doug's vision resulted in a league that was organized, fair (non-discriminate against gender, color, or family origin), family friendly, church accommodating and that promoted numerous kinds of opportunities for the children of this community while facilitating The Good News to everyone involved. This soccer league gave all players equal amounts of playing time using a playing rotation schedule and balanced each team according to the team's skill set and the ability of the players.
Participating families appreciated the league's careful attention to coordinating around local church events and weekly meetings. The league placed priority on family time and as a result, siblings were able to practice on the same days. Thus eliminating being tied to the soccer practice fields every day of the week. Each child had the opportunity to have fun on the field but character development was also the goal and vision of this league. Jesse encouraged adult involvement by creating a simple training process for coaches. Constant communication was part of equipping the volunteers with the necessary tools in being successful on the field. The intent behind the league was to encourage parents (350-400 approximately) to participate and witness the character development of their children while blessing the community by providing kids something positive to be involved in.
Even local businesses were encouraged to invest in the next generation of our city. The soccer league became a mission field where people were engaged and intentionally sharing and demonstrating God's grace in many ways. Simply put, God's love was on display and at the central core of this organized league.
The league started in 2011 with 87 children and 13 coaches. Over the next several years, the league grew to 270 participants and 49 coaches which included assistant coaches as well. Additionally, in 2015, the sports league organized a basketball league which included 223 children and 47 coaches.
In November of 2013, spurred by the success of GYSL, Director, Jesse Elizondo, along with Doug Tyler and Luis Reyna, presented the 7 most compelling reasons for soccer to be integrated within GISD. The decision to move forward with incorporating soccer into the district's school-sponsored sports events was approved the following month. The most persuasive point involved the future positive academic impact and scholarship potential for students in our school system. This compelling reason was and is still being
proved accurate and true. There have been 3 students who have re-enrolled into the school system for the sole purpose of participating in the sport of soccer. Two of these students are currently enrolled at GHS and have the potential of receiving major scholarships to attend a University. The school district's support has given students a reason to maintain academic excellence who wouldn't normally be motivated to do so otherwise.
In 2012, Jesse Elizondo was asked to serve on the Advisory Board for the JB Wells Park because of his historical impact on our community. While serving on this board, Jesse has assisted in overseeing the building of 4 large size soccer fields, providing walking trails and even initiating the building of the civic center still in progress today.
About The David B. Walshak Lifetime Achievement Award
The David B. Walshak Lifetime Achievement Award is presented to a person who has proved worthy of distinction in the Community. This Lifetime Achievement Award is appropriately named after a man who gave of himself unselfishly to his family, friends, church, and community.
A banker by profession, David B. Walshak was a two-time recipient of the Gonzales Chamber of Commerce "Citizen of the Year Award", once in 1961, the other in 1972. He served as Director and President of the Gonzales Chamber of Commerce and in 1974 was a Charter Member of the Minutemen, ambassadors of our Chamber of Commerce. He served as Chairman of the Gonzales Sesquicentennial Committee from 1973-1975, President of the Gonzales Area Development Corporation and Director of the Texas Allied Poultry Association from 1975-1976.
He served as Past President of many organizations, such as the Gonzales Noon Lions Club, the Gonzales Apache Quarterback Club, the Gonzales Baseball Association, and the Gonzales Warm Springs Foundation.
David's love for sports carried him from a professional baseball team shortly after graduation in high school to 26 years of play by play announcing of Gonzales Apache football games for the local radio station. In those 26 years, he only missed three games. He managed Little League teams from 1955-1960, then again from 1967-1974, and he also managed Youth League Baseball, Texas Rehabilitation Hospital and the Board of the Gonzales Independent School District. He was a member of the Gonzales Apache Band Boosters, the Parish Council of the Saint James Catholic Church and the Knights of Columbus, where he served as Grand Knight of Council #5090 in Gonzales. He was a member of the Texas National Guard, where he was given the opportunity to aid the victims of Hurricane Carla; he was instrumental in organizing a United Fund Community project and was the Chairman of the United Fund Drive for four separate years and chaired the Cancer Drive on two separate occasions.
David B. Walshak earned recognition from many sources such as Outstanding Young Men of America in 1965; Personalities of the South in 1973, 1974 and the Bicentennial Edition in 1976; Notable Americans of the Bicentennial Era; Presidential Commendation "in recognition of exceptional service to others, in the finest American tradition; from President Richard M. Nixon in 1973; Honorary Membership into the Texas 4-H Clubs in 1975; Honorary Chapter Farmer in the FFA; Honorary Membership in the Young Farmers in 1976; South Central Texas Semi-Pro Baseball Hall of Fame in 1973; Lions Club "Citizen of the Year" Award in 1975 and "Who's Who Among Texas Bankers" in 1975.