The Queen and her Court attend numerous parades during the year, as Ambassadors of the Gonzales Chamber, as well as Gonzales County. This is big responsibility, but an incredibly rewarding and enjoyable experience. Winners have the opportunity to travel to many places and meet lots of people while having fun and representing Gonzales.
2017 Miss Gonzales County and the Royal Court
From left to right: Jr High – Duchess Kinley Cernosek, Countess Hailey Hidalgo; High School – Queen Angelina Casares, Runner-Up Bailey Blair, Princess Quinci Seger-Gordon, and 2nd Runner-Up Kayla Estrada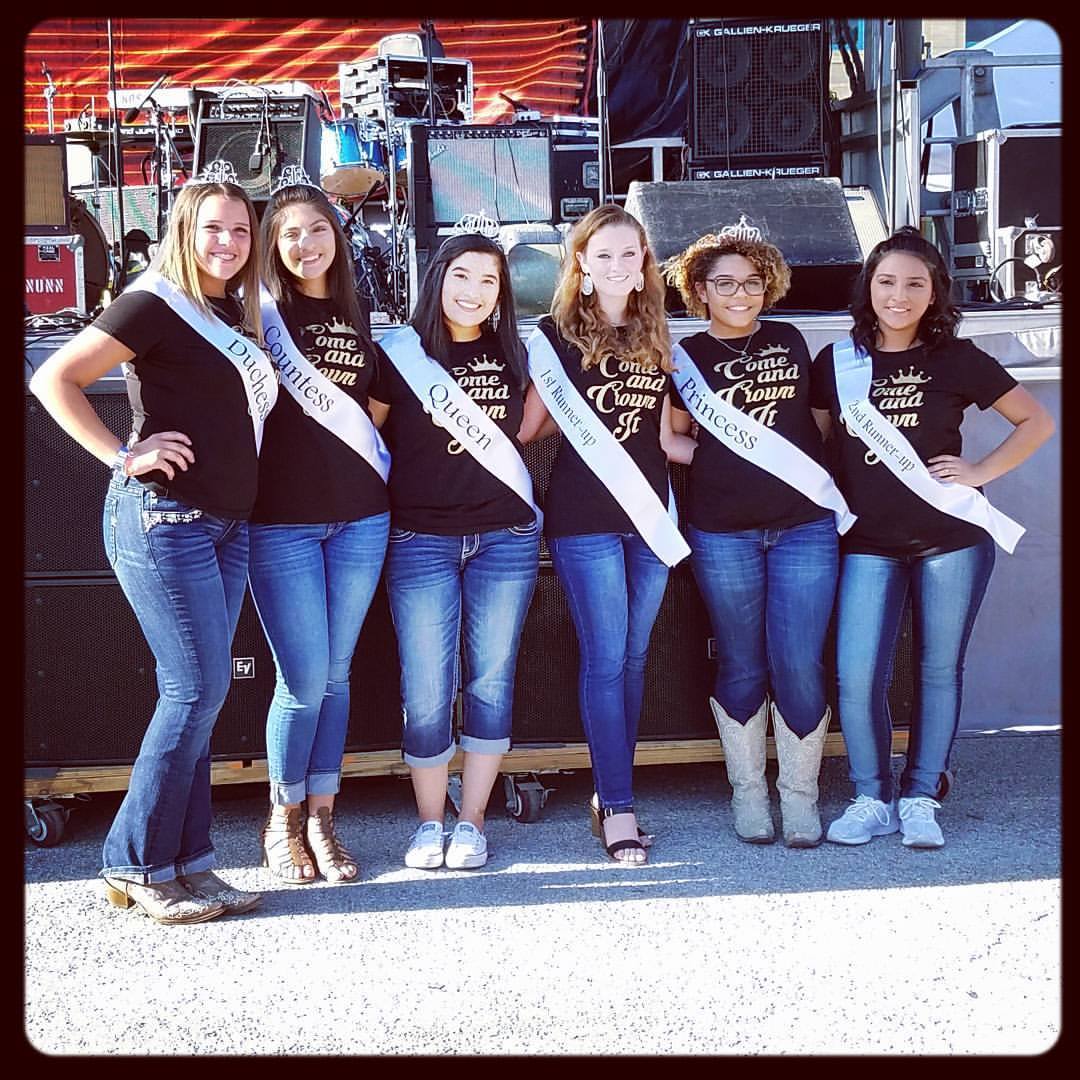 There are certain requirements/responsibilities that one must assume in order to qualify and remain a member of the Gonzales County Royal Court. Requirements and responsibilities are as follows*:
Each Candidate is required to sell 50 raffle tickets.
Candidate must sell required amount of raffle tickets and turn in all money to the Gonzales Chamber of Commerce.
Candidates MUST faithfully abide by all the rules; failure to do so may result in dismissal from the Court at the sole digression of the Gonzales Chamber of Commerce and Agriculture.
Candidates MUST be financially responsible for their own transportation to and from Parades and for purchasing appropriate attire for float, appropriate attire to be deemed appropriate by the Gonzales Chamber of Commerce and Agriculture.
Candidates are expected and required to present themselves as respectable figures in the community throughout the year. They should treat other candidates as they would want to be treated. Any destruction of property will not be tolerated. You are expected to represent Gonzales well.
Candidate must be a resident of Gonzales County.
Candidate must be classified as at least a 7th grader- Senior. Candidate must not be older than 19 years of age when running.
Candidate must have the biological gender of a female.
Candidate must not have any visible tattoos.
Candidate must not currently be married or have any prior marriages. Candidate must not have any child(ren). Candidate must not pregnant.
Candidate must have profile sheet turned in.
Please see the application for additional rules, information, and clarification for rules listed above.