When:
2017-05-06T00:00:00-05:00
2017-05-07T00:00:00-05:00
Where:
Downtown Gonzales, Texas

Contact:
Gonzales Main Street
(830) 263-0118 or (830) 857-1523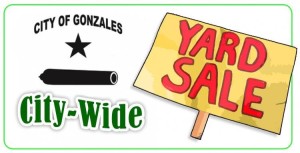 The first ever City of Gonzales City-Wide Yard Sale will take place on Saturday, May 6th, 2017
Here's how to participate:
residents in the City of Gonzales can sign up by Tuesday, May 2nd at City Hall to be included on the OFFICIAL Yard Sale Map. The cost to be included is only $10.
Spaces will be available for RESIDENTS outside the City Of Gonzales on Confederate Square for $10 per space with a 3 space limit.
Sign up sheets are available at City of Gonzales City Hall.
For additional information please call (830) 263-0118 or (830) 857-1523