Thinking of calling Gonzales, Texas home? With many great cities in the Lone Star State, Gonzales is proud to be the birthplace for Texas Freedom. Gonzales, home of the Come and Take It Cannon, is a unique place where history, community, visitors, agriculture, nature and businesses work together to make living stimulating yet comfortable for all ages. We hope you find it is a lovely city for relocation.
For relocation information, call 888-672-1095 or e-mail admin@gonzalestexas.com and a packet will be mailed to you. You can also download the Relocation Packet below.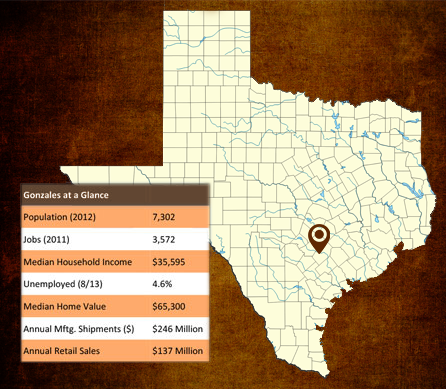 Quick Facts
As of the census of 2010, there were 7,237 people and 2,243 households in the city.
The population density was 1,412.8 people per square mile (545.2/km²).
There were 2,869 housing units at an average density of 562.8 per square mile (217.2/km²).
The racial makeup of the city was 71.5% White, 7.40% African American, 1.00% Native American, 0.40% Asian, 0.00% Pacific Islander, 21.15% from other races, and 2.20% from two or more races. Hispanic or Latino of any race were 47.2% of the population.
The average household size was 2.73 and the average family size was 3.35.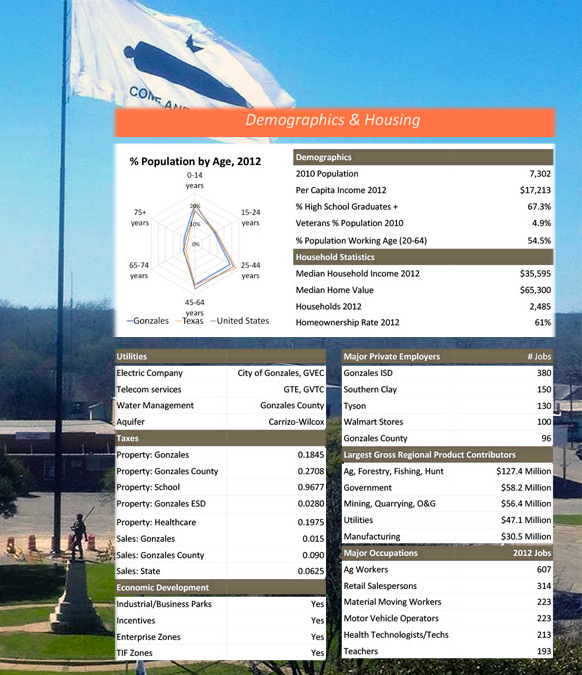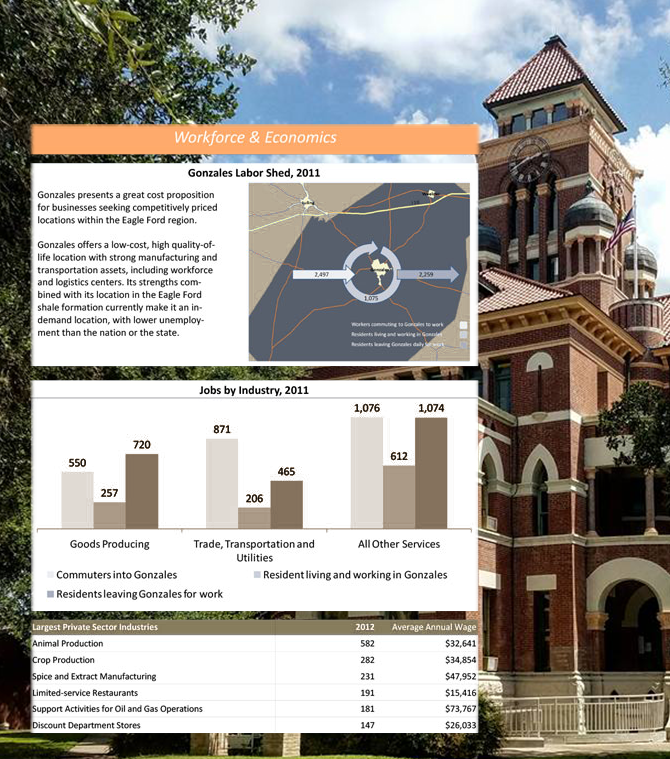 Current rental property and other helpful information are listed below. Further information can be obtained from the property owners or agents.
UTILITIES
Electricity and water are provided by the City of Gonzales located at 820 N. Saint Joseph St. 830-672-2815
Natural gas is provided by Texas Gas Company located at 619 N. Saint Joseph St. 830-672-2921 or Ferrellgas, Inc. located at 1410 N. Sarah Dewitt Dr. 830-672-3247
Telephone service in the city is provided by GVTC 1-800-367-4882.
Information on current tax rates and other items of interest can be obtained through the Chamber of Commerce office located at 414 Saint Lawrence St. or call 830-672-6532.
REAL ESTATE
If you are interested in purchasing a home or land the following real estate companies can be of service to you:
Breitschopf-Cooper Real Estate, 830-672-2522
RE/MAX First Shot, 830-519-4132
Sky Realty, 512-750-3668
GiGi Investments, 512-788-1268
Coldwell Banker/Jeff Dolezal, 830-857-1466
Smith Ranch Investments, 830-672-8668
Peterek & Associates, 830-672-7181
Lloyd Barnes Real Estate Team, 830-875-5866
Keller Williams Realty/Kristine Schmidt, 512-277-4447
Phyllis Browning Co.-Janna M. Christian, 830-857-6493
STORAGE FACILITIES
Security Storage, 1404 N. Sarah DeWitt Drive, 830-857-4896
RENT LIST
The following agencies, apartment complexes and individuals have property available for rent at times, but not necessarily all of the time:
Apartments/Duplex/Lofts
Residential/Commercial Area- 2B/2B apartment for rent. $550 a month. Call Lynette Cooper for more information at (830)-857-1364.
Lexington Investments- 339 A. St George Street. Central Air/Heat for $750 Month & $700 Deposit. 1008 Sq Feet Please call 830-672-5580.
Country Village Square Apartments- for the Elderly, low income, section 8 and/or mobility-impaired. Please call 830-672-2877
Gonzales Housing Authority – 830-672-3419
La Posada Apartments – Apartments available 830-672-2094
The Guadalupe Apartments. – 1, 2&3 bedroom apts. available Call Robert Yang  830-672-3899 or 445-6627
2B/2B- No pets, no smoking, $650 per month, available now.
3B/2.5 – Appliances and central air $650
2B/1B – House $750 appliances and washer/dryer.
The Oaks at Winding Way– The Oaks at Winding Way is a 40 unit apartment community. We offer fully accessible and non-accessible units for rent. We gladly accept Section 8 Vouchers. The Oaks at Winding Way is a beautiful community committed to providing a warm and inviting living environment. Amenities include: Laundry Facilities. Children's Playscape, Walk-in Closets, Patios, Private Storage and beautiful Shading Oak Trees. Please visit us today! 830-672-5420 manager.oaksatwindingway@dmacompanies.com
My Town Cottages– 500 Water St. Extended stay cottages that come fully furnished with kitchens, washers/dryers and maid service.  Call 512-663-6357 for additional information.
Lodges & Garages is a six unit hotel establishment providing the added conveniences of private kitchens and attached garages for each guest, 30 day min $250/Week. Please call Rebecca Flores at 512-669-8196 for more information.
Bluebird Lofts– 2/1 All new loft  conversions in Historic Downtown Gonzales, stainless steel appliances, fully tiled bathrooms, hardwood flooring, custom cabinetry, central  air and heat, $1125-$1185/mo + $1000 deposit- for more information, please call Betsy at 512-576-5868 or  send email to Betsy@DeMentandCompany.com
Wolff Motel– Wolff Motel offers fully furnished efficiency, 1, 2, & 3 bedroom apartments with all bills paid.  Rent short or long term for $200-$375 per week. For more information please 830-519-4177 or visit  www.wolffmotel.com
Furnished studio apartments  $595 per month, includes DISH TV service, playground, BBQ pits, and picnic tables, dog friendly, on site laundry.  Available now call 830-540-4316 for more information.
Homes for Rent
Crooked Back Ranch- Custom Homes for Rent
Feel at home on our 84 acre ranch with 2700 ft. of Guadalupe River frontage that features gated and secured entrances. Amenities include; all utilities paid, fully furnished, washer and dryer, fireplaces, outdoor bbq pits, outdoor fire-pits, hammocks, peaceful beautiful water front views, covered parking. Crooked Back Ranch has the flexibility of both weekly and long term stays. For more information please call Grace at 830-765-7651 or you can view photo gallery on crookedbackranch.com.
2B/1B- 1323 Gardien Street. $875/month and $500/deposit. NO pets and NO smoking. Please call 512-799-2610.
2B/1B-  1206 Waelder Road, Gonzales, Texas 78629 $950/deposit $950/monthly. Please call Robert 830-672-3899.
2B/2B – No pets, 20 feet from water front at the lake. $850/deposit and $850/month. Please call 830-377-5053 for more information.
 3B/2B-  528 Guerra Ln. Central air/heat, fenced yard, nice neighborhood, no pets. $1000 per month. Call for more info 830-857-6363.
3B/2B – Brand new 1400 sq ft. house will be available for rent beginning of November. For more info contact Robert Guerra @ 830-263-1928
Homes for Sale (Full color guide available upon request.)
289 County Road 490- 3/2 with 30 acres. This log cabin features beautiful wood floors, vaulted ceilings and stone fireplace in living room, stainless steel appliances, custom cabinetry, home office, wrap around porch and metal roof. Fenced guest house with kitchenette. Detached garage and barn. Contact Phyllis Browning realtor Janna Christian for more info 830-857-6493.
112 Water St.–  4/2 with 2 acres. This brick home features abundant windows that offer maximum natural light and serene views. Living room features vaulted and exposed beam ceilings, fireplace, and brick tile flooring. Beautiful mature trees and landscaping. Property overlooks Guadalupe River Dam. Contact Phyllis Browning realtor Janna Christian for more info 830-857-6493.
3 BR/1BA– 810 E. 2nd Street, Nixon, Texas. Asking $69,500, please call 830-672-5580.
COMMERCIAL & OILFIELD RENTALS
901 Saint Joseph St: 2000sq ft. Ideal for commercial however; the space can be used as residential for single or couple only. Owner is negotiable on rent. Please call Lynette Cooper with Breitschopf-Cooper Realty at 830-672-2522.
Oil Field or Business: 2 Acres with lot to store/park equipment and trucks located on hwy 97 east. Includes two mobile homes each have 3 bed/2 bath brand new models. Also features four RV hook ups. $4000 per month. Please call Keith for more information 830-263-4120
304 Cone St: Office building with 2 acres that will accommodate truck/trailer parking. Over 3800 sq. ft. office space with ground floor bathroom access. Please call for lease amount and terms-negotiable. Bruce Baker 830-672-7500
521 Saint Andrew St.: Building for lease. For information please call Sam at 830-857-4891.
Downtown Gonzales: 512 Saint James St. Recently renovated 4560 sq. ft. one story multi-purpose building for sale in downtown Gonzales. Heating and air, 1000 sq. ft. warehouse, rear entrance with handicap parking, and much more. Call John Pickens with Sky Realty for an appointment 512-750-3668 Asking price 349,900.
Office Space for rent: Downtown location has four office spaces for rent on first floor. 417 Saint George St. $400/month includes utilities. Call for more information 830-672-5580
12ac: Available for commercial use. Can be subdivided, located on Business 183N near McCoy's Building Center and Pioneer Village. For more information please call CAC Real Estate Carroll Erwin 512-213-4960.
621 N. Saint Joseph St.: 16,000 sq ft. building located in historic downtown Gonzales. Front section offers open spaces with abundant light and windows. Spacious back section features private offices, secured covered parking with additional parking in front and side of building. Sale price 435,000, contact Phyllis Browning realtor Janna Christian for more info 830-857-6493.
1820 E. Sarah DeWitt: Three lease options available. $3000 for lot & office/$2000 for large office and ten parking spaces/$1000 for small office and ten parking spaces. For more information call Mark 830-263-1740 or Ferd 830-351-1022.
335 St. George Street- $400 Month/$300 Deposit. Utilities NOT included.
Three units downstairs at $400 Month/ $400 Deposit each. Utilities Included. Or $1000 month for all three. Please call 830-672-5580.
CREW HOUSING FOR OILFIELD WORKERS
Cottage: Fully equipped kitchen with stove, microwave and refrigerator. One or two bedrooms available, all utilities included, fully furnished, full & twin beds. Includes air conditioning units, yard, one-car garage and basic cable. Please call Gonzales Rental Properties at 830-672-3089 or cell 512-292-0070 for more information.
Wolff Lodge: Wolff Lodge offers fully furnished efficiency, 1, 2, & 3 bedroom apartments with all bills paid. Rent short or long term for $200-$375 per week. For more information please 830-519-4177 or visit www.wolffmotel.com
Downtown Gonzales- Fully furnished, recently renovated, 2 bedroom, 1 bath apartment for rent in Downtown Gonzales, TX in the beautiful Dilworth Inn & Suites Hotel. The apartment is furnished to accommodate up to four people. The kitchenette includes a new stainless steel refrigerator, microwave oven, toaster oven and all kitchen supplies. All towels and linens also included. Weekly housekeeping service available. For more details, pictures, and rates contact: contact@thedilworth.com or call 830-519-4109. Visit our website at www.thedilworth.com.
Lodges & Garages- is a six unit hotel establishment providing the added conveniences of private kitchens and attached garages for each guest. 830-672-9444
Fully Furnished Rooms – 1 to 4 bedrooms nightly/weekly rent available. Completely furnished, down to the sheets; maid service also. $40-$60/night or $250-400/weekly for crews. NO Deposit! Please call Mike 512-656-0921.
RV SPACES
Please contact the following companies for their availability:
JP 80 RV Park 830-305-0336
Eagle Ford RV Park 830-540-4316
4L RV Ranch 830-672-6057